My cousin is a huge fan of clean living: she rejects all products that are made from harmful chemicals or damage the environment and tries to consistently find healthier, natural alternatives.
At times, her lifestyle choices influence and even surprise me. She manages to discover ways to keep herself feeling and looking great without using the standard chemical-based shampoo, moisturizers and toothpastes that I use.
Her new go-to product sounded crazy at first: activated charcoal. "Activated charcoal?!" I responded in shock at the concept of using charcoal for beauty purposes. "Yep. You won't believe what you can do with it…" she responded.
And so I was introduced to the *awesome* world of activated charcoal and its many uses.
Who needs harmful chemicals when you can get great results with healthier, natural alternatives like activated charcoal?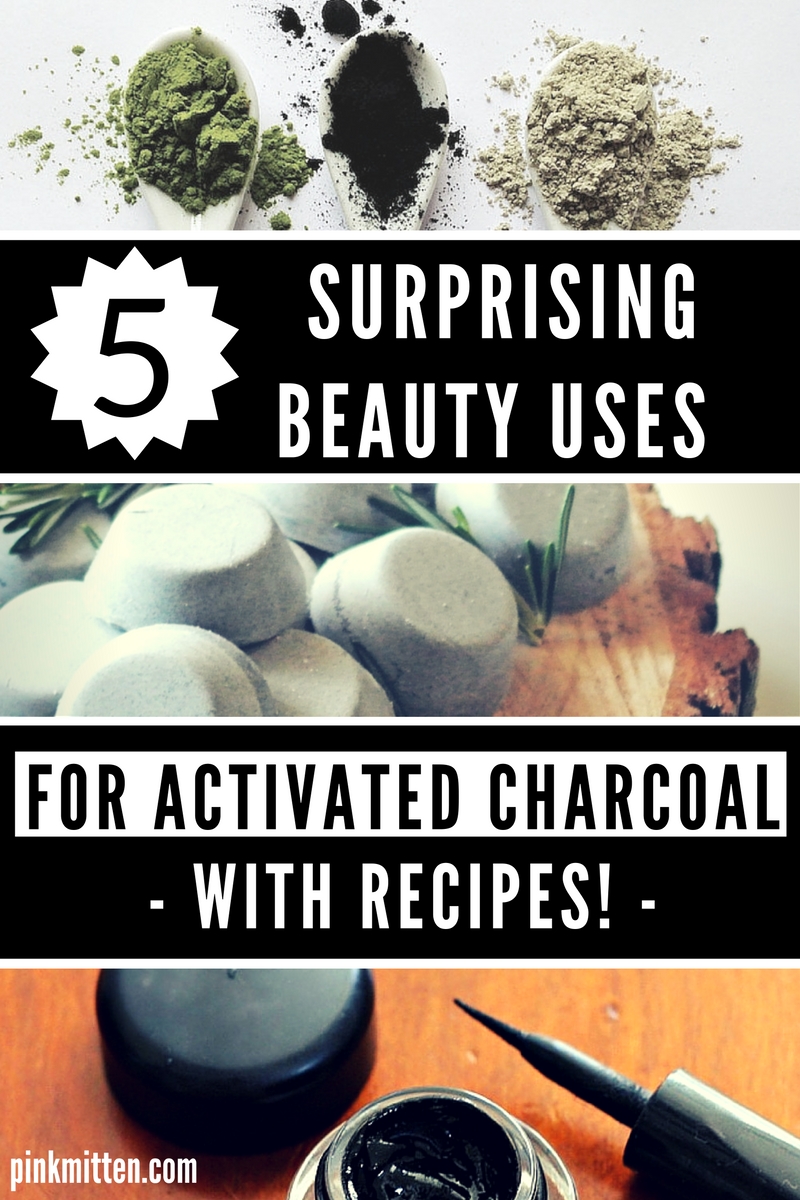 Let's dive in – what is activated charcoal?
If like me, you're only now being introduced to activated charcoal and it sounds… well, peculiar… you're not alone. It's not widely known as a beauty product.
But activated charcoal is used and shown by thousands of beauty bloggers on Youtube. They test it for all types of interesting purposes, from clearing blackheads, to teeth whitening and even reducing bloating. (Miracle ingredient anyone?)
The fact that it's relatively cheap and can be used in a plethora of ways makes it attractive to people who prefer cleaner, healthier alternatives than chemical-based beauty products.
So what is it then? According to WebMD, it's similar to common charcoal but it's made especially for use as medicine. The source material is heated and acid washed to increase its surface area, which allows it to better adsorb compounds.
For beauty purposes there are two types that are safe-for-use and show better results: coconut and hardwood activated charcoal powder.
You also want to purchase the powder-based form instead of capsules – mostly because it's far more affordable and you can get as much as 5x the amount for the same price.
5 Ways to Use Activated Charcoal
Now that you know what it is, let's dive into 5 amazing ways to use activated charcoal alongside some easy-to-follow recipes.
If by the end you want to see even more recipes, ideas and info regarding activated charcoal, I recommend this guide to activated charcoal. The recipes below are all from there!
Activated charcoal eyeliner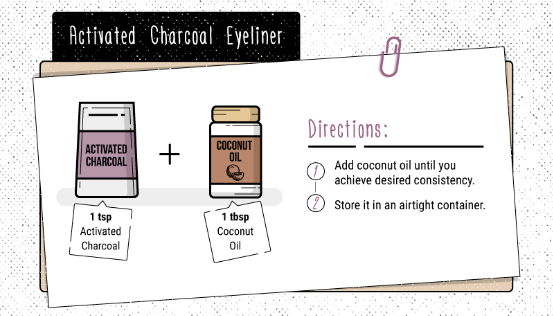 This is one of my favorite uses for activated charcoal. I often have a problem with my chemical-based eyeliners just not being black enough. That's not an issue I encountered with activated charcoal eyeliner; the liquid is perfectly dark and slides on beautifully.
It's also super easy to make – as seen above, it only takes 2 ingredients and they happen to be my eco-friendly cousin's favorites (she also swears by coconut oil).
And… kapow! Look at that glossy, dark eyeliner.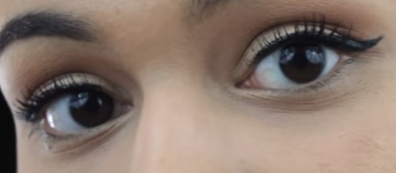 Activated Charcoal Teeth Whitener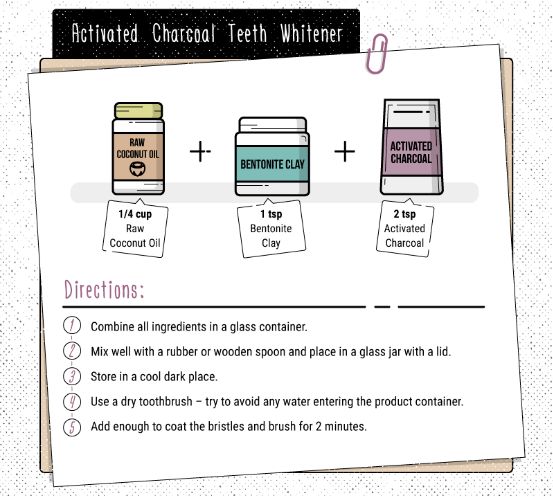 Anyone who knows me also knows that I am OBSESSED with having beautiful, pearly white teeth. Maybe it's because as an accident-prone child, I spent a good chunk of my life toothless.
So nowadays, I like keeping my teeth healthy and regular pharmacy-style whiteners won't cut it. I'm always afraid that the chemicals will damage my teeth for the sake of making them slightly whitener.
By suggestion of my sister, I tried baking soda, which does a great job making them whiter, but it's very temporary. I wanted something more long-term.
Two weeks into trying activated charcoal in my teeth and there's definitely a visible improvement in whiteness.
The downside is the temporary black smile for a few minutes. 🙂 So maybe don't smile at the kids or the hubby to avoid lifelong trauma.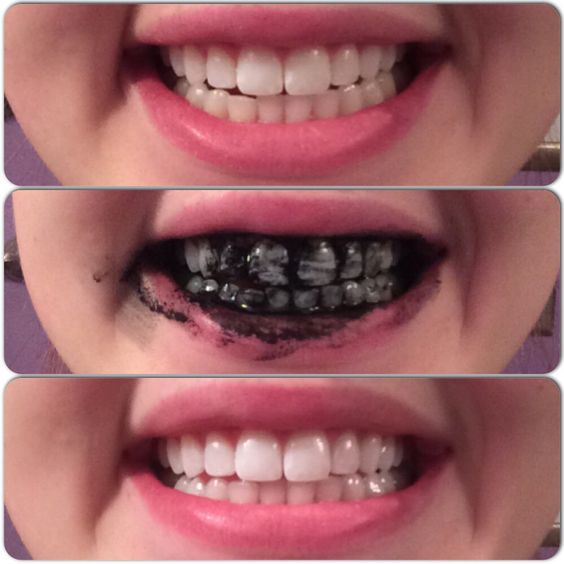 Source: Pinterest
Activated Charcoal Facemask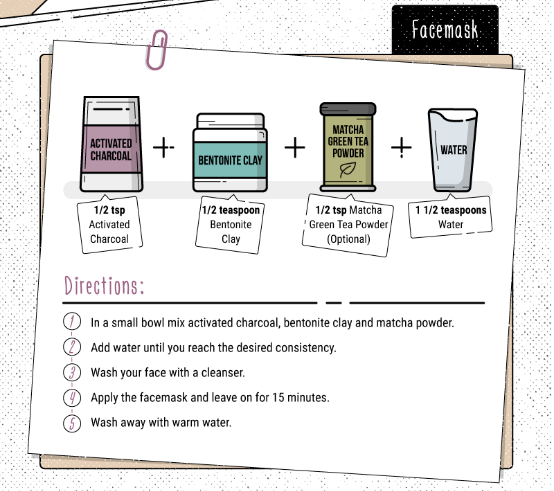 I am LOVING this concoction – I can actually see the effect on my skin after one use.
It's super liquid at first, so you can put it on easily across your face with a brush. Within about half-an-hour, it gets stiff and matte and it's ready for removal.
That part is a little less comfortable – you have to remove it carefully and patiently. It's a facemask after all.
End result: it didn't just soften my skin – it also removed blackheads, whiteheads and cleaned my pores!  Blew my mind; this will be a part of my weekly beauty regimen.
Beautiful skin – here I come!
Activated Charcoal Shampoo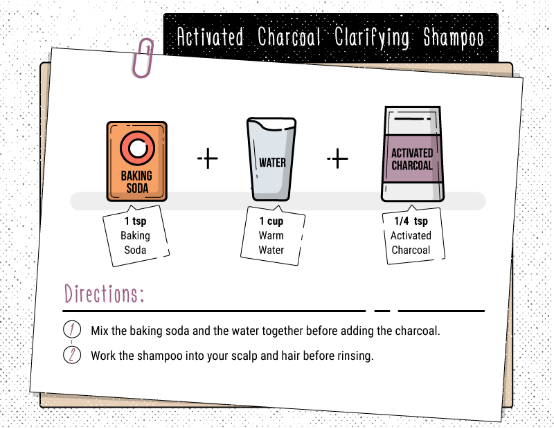 This one I was more hesitant to try – I have very dry, thin hair and I'm always in panic about not caring for it appropriately.
All the shampoos I used so far have been pharmacy-bought and specific to my hair type. But okay – I was in an adventurous mood, inspired by my cousin's shiny hair.
I'm still unsure about the result: It's definitely not a moisturizing shampoo; it's more of a clarifying or purifying shampoo that helps clean the scalp. It's thicker than a regular shampoo so I had to work it in.
But I definitely have something good to say for it: my scalp and hair feels clean and product-free.
I think I'll keep this up about once a month in combination with my regular hair-care routine.
Activated Charcoal Eyebrow Gel
This recipe was so easy, that I had to give it a try. I'm also completely out of eyebrow gel, so it seemed like the perfect test since I had both ingredients at home.
My eyebrows are naturally very dark and wild – they do what they want and most of the time, I give in. But sometimes, like for parties or events, I like my eyebrows controlled.
My biggest issue with mainstream eyebrow gel is that they often include many chemicals and do animal-testing. This was a perfect alternative – natural, cruelty-free and super easy to make.
And now, my eyebrows are finally in control! I can only recommend this to people like myself who have very dark, bushy eyebrows. The mixture is pitch black and won't work for lighter eyebrows.
I haven't tried yet but I think that with a little tampering, this could also make for great mascara.

And that sums up my experience with activated charcoal so far. 🙂 More to come as my cousin and I experiment with a few other recipes!
Have you tried activated charcoal? Tell us about your experience or your thoughts below!