Floor coverings made of natural fibers are an attractive addition to almost any room. Proper installation is essential to making sure your natural fiber rugs retain their appearance and integrity even in high-traffic areas.
Carpets made from natural seagrass and other fibers have a number of characteristics that differ from synthetic rugs.
Therefore, it is important to know and work with these unique traits when installing your floor covering.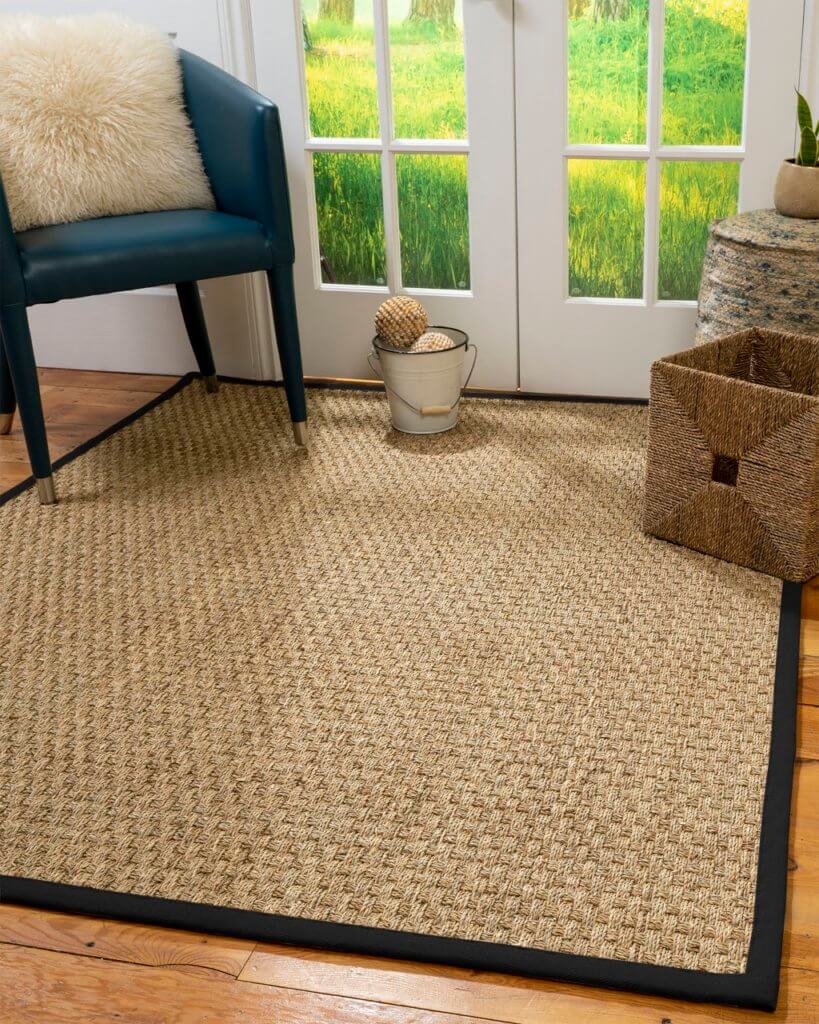 What Sets Natural Seagrass Rugs Apart?
When you purchase a rug made of seagrass or other natural materials, you can expect some traits you will not find in man-made fibers. Specifically, you will see a lack of uniformity in color and texture.
Small variations are normal and make your rug unique. Here are some common characteristics you can expect in a natural rug:
Color differences: The color of the rug you receive may not match the sample color exactly. This is because the color of a particular batch of seagrass can vary depending on soil composition, weather and other conditions.
Sprouts: Seagrass is a short fiber. As a result, it can sometimes sprout while it is being shipped to you. Do look for sprouts and clip them before installing your carpet.
Visible Seams: These can occur even with high-quality workmanship. When using natural fibers, creating a flat woven pattern will usually result in a visible seam.
Bowing and Loop Size Variation: These characteristics are common in natural fiber rugs. Some materials are more prone to them than others.
Plugs: Natural fibers have to be tied off during manufacturing. Thus, you will notice small plugs at these spots.
If you do note irregularities that appear to be outside the norm or would interfere with how you want to use the carpet, contact the seller before taking any steps towards installation. Cutting or altering the material in any way typically means you will not be able to get a refund or exchange.
Which Natural Characteristics Affect Installation?
While the traits listed above do not have a significant effect on your installation choices, there are some additional characteristics that do.
Working with the intrinsic qualities of your seagrass rug will help you install it in a way that showcases and preserves its unique beauty.
Changes in Color: Whether your rug's fibers are dyed or in their natural state, their color will change over time. Exposure to sunlight accelerates fading. To preserve color for longer, install your rug in a location without direct sunlight.
Vulnerability to Moisture: Natural fibers can sustain damage from moisture. They are also typically not weather-resistant. Install your rug indoors, in a well-ventilated area where moisture will not accumulate.
Susceptibility to Wear and Tear: Most seagrass rugs are only designed to sustain normal wear and tear from residential use. Unless you specifically purchase a rug approved for commercial or office use, natural fiber rugs do best when installed in a residence.
Contraction and Expansion: Because natural fibers are sensitive to temperature and moisture, they can expand and contract based on environmental conditions. Your installation process should account for this property. Additionally, placing your seagrass area rugs in interiors with stable temperature and moisture levels is a good way to minimize these changes.
In addition to this general advice, be sure to follow any specific recommendations from the rug manufacturer or seller. If you have questions about whether a particular rug is suitable for your purposes, consulting a professional can help.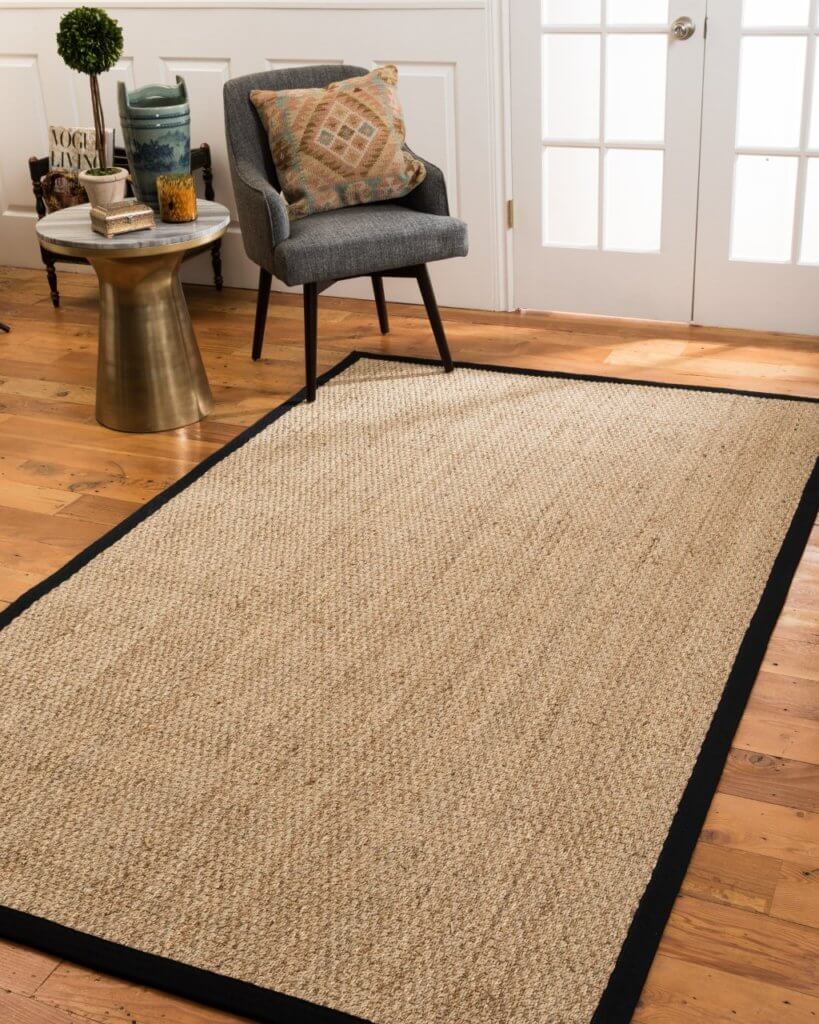 Which Techniques Are Key to Proper Installation?
Begin by putting down the seagrass rug in the room where you plan to install it. Let it stay there for about 24 hours. During this time, the natural fibers will adjust to the environment.
Carpets baked with synthetic or jute material can be installed using the regular approach for residential carpet installation. Rugs with felt backing or with a high pile typically do not do well with installation and work better when loose-laid.
Flat-woven natural fiber rugs with latex or polyurethane backing need a specific technical approach. It is not recommended to loose-lay it, as the natural shrinkage and expansion of seagrass and similar fibers eventually results in the rug shifting and developing bubbles.
This type of carpet should be glued, not tacked, to the underlayment. Use a high-quality low-moisture adhesive. Here are the steps to follow during this process:
Measuring: Measure the area exactly, then add about three inches to each dimension.
Cutting: Use a sharp razor carpet knife for precision. Cutting along the selvage edge lets you hide the seam neatly.
Aligning: Before you start gluing, line up your carpet segments so the seams match and the pattern is aligned. Note that due to the inherent variations of natural seagrass, you will likely not be able to line up the patterns exactly. When you're done, gently fold the carpet near the seam.
Gluing: Follow the open time instructions on your adhesive's packaging. Use a v-notched trowel to scoop and spread the glue in the direction away from the seam. Then start placing the carpet, going from the seams to each wall. To hide seams, begin by gluing the first segment of carpet. Then place the next segment so it overlaps the glued piece by a bit less than an inch. Lift the edge adjacent to the seam of the glued carpeting and tuck it down into the glue, pressing the roller against the seam so the edges adhere to one another.
Trimming: Make a sharp fold where the carpet meets the fall and cut it with a sharp razor carpet knife.
What Are Common Errors To Avoid?
When installing seagrass rugs and other natural fiber carpets with latex backing, it is important to remember that their unique traits mean some common techniques will not work. Some installation mistakes can detract from the finished product's appearance or make it more susceptible to damage.
Using Thick Padding: A thick pad is likely to retain impressions. A flat pad works best for this kind of carpeting.
Using the Knee Kicker To Stretch: Doing this can damage the weave. Only use the knee kicker to position the carpet once you have laid it in place.
Cutting in the Wrong Direction: To avoid fraying and uneven edges, cut across the valleys in the carpet's rib, not along them.
To get the most out of natural fiber rugs, it is essential to install and handle them correctly.