Everyone has bad habits that may or may not affect their health. Of course, it's much easier to continue down that path than try to make changes in your lifestyle.
While you may think that you're the only one affected by these bad habits, you're sadly mistaken. People around you are constantly affected and influenced, whether it's by picking up your bad habits as well or even physical or psychological damage.
A few years ago, I made a conscious decision to look into my bad habits and make drastic changes to my lifestyle. I started eating healthy, being more active and stopped drinking alcohol and soft drinks. The physical and psychological changes were well worth the effort!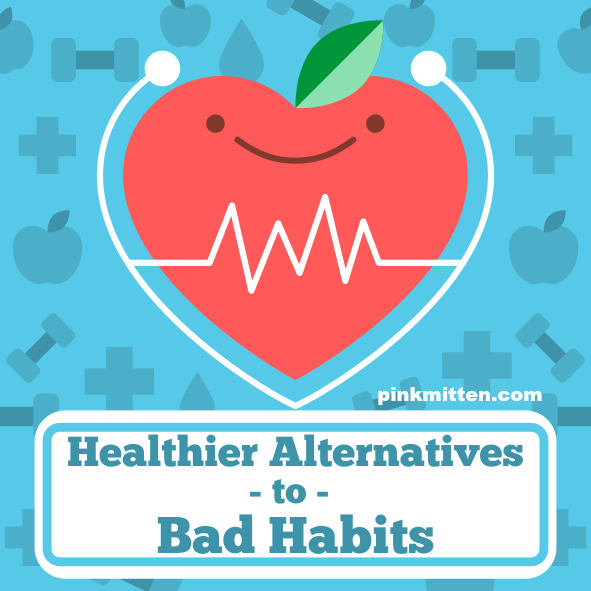 There's never a better time to change your life than right now.  It's time to discover 5 healthier alternatives to bad habits.
1) Junk Food
Yes, junk food is delicious, but it is extremely unhealthy. These foods contain an abundance of saturated fats, sugars, sodium and calories.
Fast food will put weight on your body faster than any other type of food. People are so drawn to fast food because it is quick, easy and available.
Unfortunately, that's also part of the downfall. It's much easier to eat junk than prepare a healthy, homemade meal. So we fall into the terrible habit of eating fast and cheap food day after day.
If you just need your fill of fast food every so often, then consider foods that contain authentic ingredients. For instance, if you enjoy eating pizza from Domino's or Pizza Hut, you could stop visiting these restaurants and hit up a Whole Foods Market instead.
Whole Foods Markets sell pizza that is prepared in a wood-burning oven. These pizzas are made with authentic ingredients and will cut your caloric intake by 300 to 400 calories.
2) Nail Biting
Nail biting is one of the most common habits among humans. Believe it or not, dogs will also bite their nails when they break or grow too long.
This habit usually begins at an early age and continues throughout life. Chewing your nails not only alters the appearance of your hands, but will also ruin your front teeth.
There are alternatives to biting your fingernails: first, you should consider getting a manicure. Most people don't chew on their nails if they are covered with fingernail polish.
Try putting your fingers in your pocket, twiddling your thumbs or wearing a rubber to keep your mind off of biting your nails.
3) Cigarette Smoking
Millions of people are addicted to smoking traditional cigarettes. This is one of the worse habits to kick, because of the addictive nicotine found in these products.  The dangers of smoking cigarettes are mostly linked to tar, which is toxic chemical that causes lung cancer.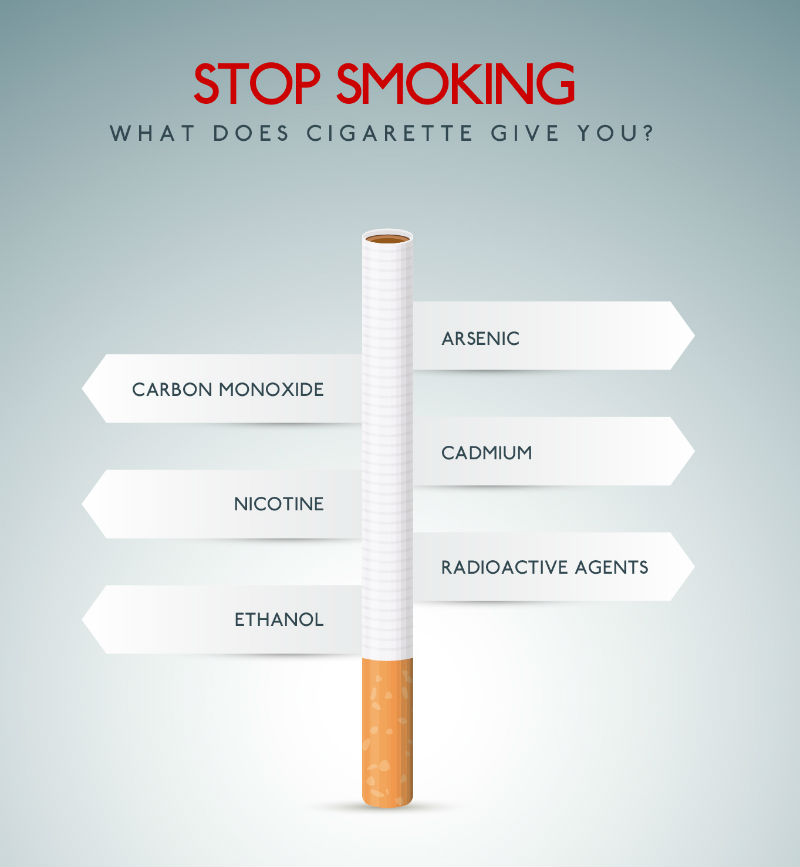 Source
But you should't be too afraid to take a leap into quitting. The idea that it's too difficult to quit is part of a large marketing campaign to push people away from even trying to put down the cigarettes.
A better alternative to tobacco cigarettes is vaping and ejuice. Vaping allows you to get a specific amount of nicotine, without inhaling dangerous toxins.
4) Caffeinated Coffee Drinking
Caffeinated coffee is a delicious beverage that is hard to give up. Plenty of people use it as a resource to wake up every morning, at work and after meals.
But drinking coffee as a necessity to wake up is not a good habit – it has numerous effects on the body. Not only will coffee stain your teeth, but the caffeine in the beverage will also increase your heart rate and blood pressure.
If you love the taste of coffee and can't get enough of it, the healthier alternative to caffeinated coffee is decaffeinated coffee.  Through conditioning, you can fool your brain into thinking it's drinking caffeine and wake up, much like a placebo effect.
5) Sitting While Working
Secretaries, accountants and children continuously sit in front of a computer screen or video console. While you are sitting, you are not getting any exercise.
However, there is a healthier alternative to sitting and that is standing. You can purchase a standing desk to utilize while you are working or gaming.
If that's not an option, take a break at least every two hours, stretch and walk for a few minutes. Just by moving your body around for 6 to 8 hours a day, you will be able to improve your health drastically.
Thanks to Freepik for the original version of the featured image.