If you prefer offbeat attractions and odd destinations over the more run-of-the-mill activities when you're on vacation, you'll find plenty to do in Marietta, Georgia.
From the Big Chicken to St. James Episcopal Cemetery, check out five geeky stops in Marietta.
Big Chicken
You know you're in Marietta when you spot the Big Chicken, one of the city's most distinctive landmarks.
This huge 3-D chicken dates back to 1963 when it crowned the Chick, Chuck, and Shake, a popular fast food spot in Marietta.
The restaurant later evolved into a Kentucky Fried Chicken, and the nearly 60-foot chicken stayed in place until a major storm threatened its existence in 1993.
Big Chicken lovers rallied around this roadside attraction, which still stands strong after substantial repairs.
Raven's Nest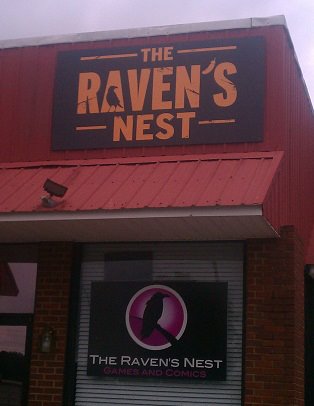 If you like quirky bird-themed attractions, you'll also want to stop by Raven's Nest to browse the impressive collection of games and comic books.
Pick up the latest edition in your favorite comic book series, invest in a new deck of cards, try a new board game, or join a game in the large community space.
Raven's Nest hosts group games most weekends.
Tellus Science Museum
Science fans, history buffs, and dinosaur lovers will want to make Tellus Science Museum a key stop in Marietta.
This expansive museum boasts a fossil gallery with an amazing collection of dinosaurs, a Fossil Dig area with opportunities to discover your own fossils, and a mineral gallery with over 50 of Georgia's top minerals.
If you're more interested in technology, you'll love the Millar Science in Motion Gallery and the Solar House, both of which showcase some of the coolest inventions from the 20th and 21st centuries.
St. James Episcopal Cemetery
If your love of geeky attractions centers on the mysterious, you'll want to visit St. James Episcopal Cemetery.
Like many Southern graveyards, this one is filled with fascinating tombstones and beautiful monuments.
However, this cemetery hides at least one sad secret. The St. James Episcopal Cemetery is home to the gravesite of JonBenét Ramsey, the young girl whose unsolved murder has made headlines since 1996.
You'll find her tombstone in the far rear corner of the cemetery, where you may spot other visitors intrigued by the girl's tragic story.
Don't be afraid to book your choice of Marietta hotels in the neighborhood around St. James Church. Since it's right in the center of town, this is the perfect place to base yourself during your trip to Marietta.
Ghosts of Marietta

No visit to Marietta is complete without a Ghosts of Marietta tour.
Whether you choose the walking tour or the trolley tour, you'll hear downright spooky stories and be on the lookout for paranormal activity as you travel to some of the most haunted sites in town.
If you want to mix nightlife with your ghost tour, then opt for the Haunted Pub Crawl that's open to ghost hunters who are 21 and older.

Whether you're staying overnight or for a long weekend, Marietta has plenty to offer visitors who prefer off-the-beaten-path attractions.
With these destinations on your Marietta map, you'll be ready for a delightfully odd trip to the Atlanta metro area.