Ok, Thundering Asteroids are performing in two weeks and you've got tickets. This is one of the most exciting concerts of the century. All the nerd punks in your hometown will be gathering with glee, while rocking out to a tie wearing drummer. While the Thundering Asteroids may not be heading into your town for a show, you get the idea of the feeling when a nerd punk band you like is coming to town.
Going to a concert takes some planning because you want the night to go just as good as the last Marvel super-hero movie, but better. It's time to start thinking of how you can play the part like a real concert goer.
Whether you're going to a Weezer, OK Go, or any type of nerd punk concert, here are some quick tips to make sure you're a super nerd.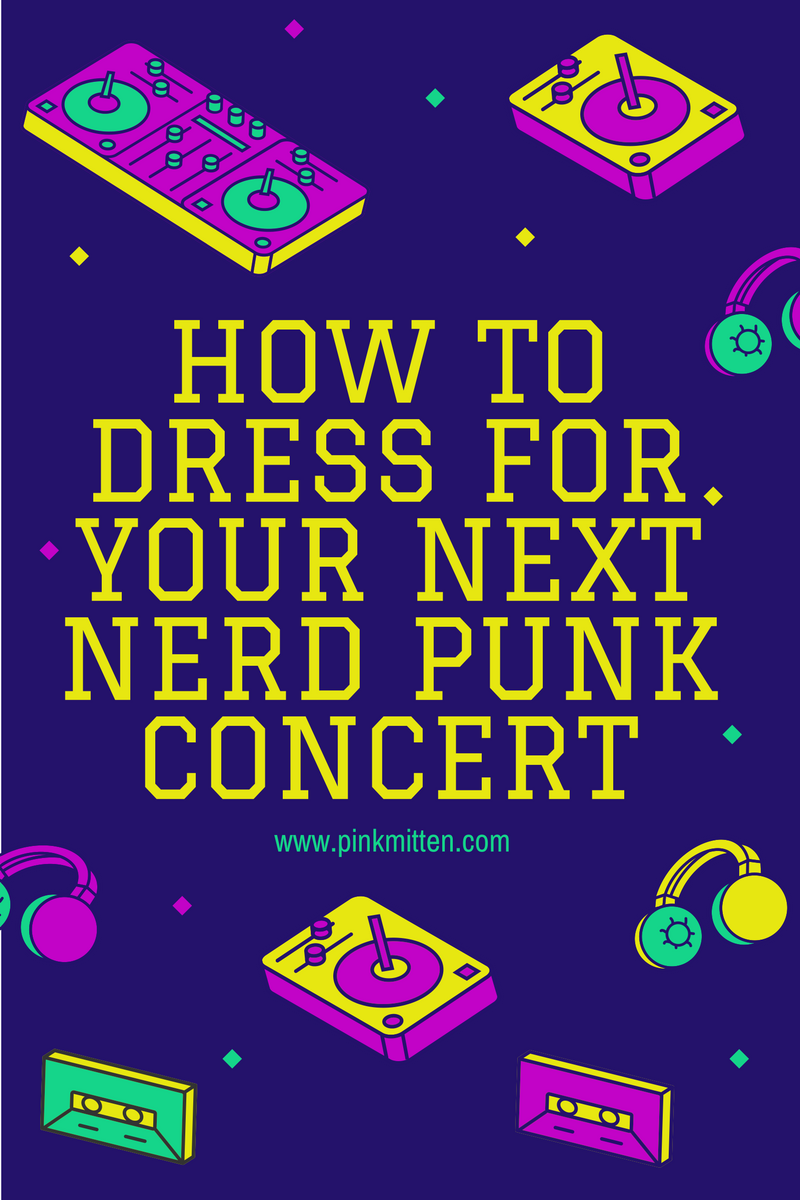 Plaid and Stripes
Plaid is a definite must in anything that has to do with punk. The classic red plaid is perfect for the punk rocker in you but a blue or green plaid, on the other hand, is perfectly geeky. Plaid is one of the most popular textiles in the world and has historical roots stemming from Scotland. The proper name for this type of textile is not plaid per se but, tartan.
This fabric design has been around for just about 3,000 years. Hey, the Rolling Stones are still rockin' and so are you with your 3,000 year old fashion statement.
As for stripes, stripes have this pop factor in nerdery. There's just something about those stripes that create a wow factor. Black and white stripes go really well with a bold lipstick color for the ladies or ski cap for the gents.
Buttons and Badges
Buttons are badges and badges are buttons, depending on whether you're British or American, either way, you need some stinkin' badges. Buttons of punk bands have been a rock n' roll staple for years. Pin them to your bag, your jacket and give them away to some of your friends. A custom rock band's cover album on a button is the perfect way to keep rock n' roll tradition alive. Even though the British call buttons badges from across the pond, both cultures have deep roots in rock n' roll and are not afraid to let the buttons show it.
You can find buttons in many places. There are vintage buttons and you can also create your very own masterpiece button by custom making one to fit your story.
Flat Shoes
It doesn't take a wizard to realize that being on your feet all night and persevering through a sticky floor of dried up beer to get a good look at the band is a lot of work. Even if you want to get to the concert extra early to get closer to the stage, you need to wait and wait and wait some more.
Flat shoes are pretty much the only way to go unless you're an alien from another planet. Make sure the shoes you pick are already broken in. Sometimes new flats for the ladies require a brutal week of breaking in. Thank you band aids for making the process bearable.
Cross Body Strap
If you have a lot to carry, do not use anything else to carry them other than a crossbody or a shoulder strap that is able to stretch across the body. You're gonna be dealing with a big crowd and need to be able to have cat like speed maneuvering, make sure your stealth with the proper bag.
Cross body straps come in handy for museum visits, long walks around the city and of course jam sessions with your favorite band. So remember to pack it up with all your essentials to make it through the night with flying colors.
A Piece of You
Always, always bring a piece of your creative expression with you. Block everything out, like what people expect from you, that doesn't matter. Just be you. Find a way to express yourself, whether it's a super hero t-shirt or rainbow nail polish. Nerd punk is all about using your wizard wits to express yourself through music.
Final thought
No matter what, dress for comfort. There are a billion way to express yourself while being comfortable. Thank goodness for the nerds in the world, creating new ways of expression through creativity and intelligence, because of them, we have a spectrum of possibilities in having fun while enjoying some awesome music.