If you're unfamiliar with it, the military diet is a strict seven day diet that has taken YouTube reviewers by storm.
In the first phase, lasting three days, you stick to a calorific count of not more than 500 calories per meal. Ideally you're looking at about 1,400 calories a day and not more.
You shouldn't go below 1,200 calories either; that number will keep your emotions and energy on even keel.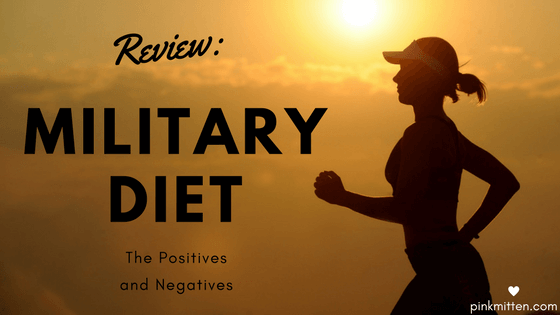 The next four days don't have to be so strict in calorie count but the idea is to not go overboard.
Meals can be pre-made and comprise of simple components. Snacks are permitted but there are specific things you can eat.
At the end of a week, a person stands to lose weight. The military diet review by fitnessgoals.com clearly lists the pros and cons.
Let's start with the positives
One of the advantages of the military diet is that it incorporates healthy things in your grocery list.
Fruit like bananas, apples, tomatoes, and oranges, berries of all kinds, green vegetables like spinach, lettuce, and broccoli, carrots and celery, oily fish like salmon and tuna, eggs, cheese- cottage, mozzarella and cheddar, yummy stuff like vanilla ice cream and peanut butter (which might already be there on your list!).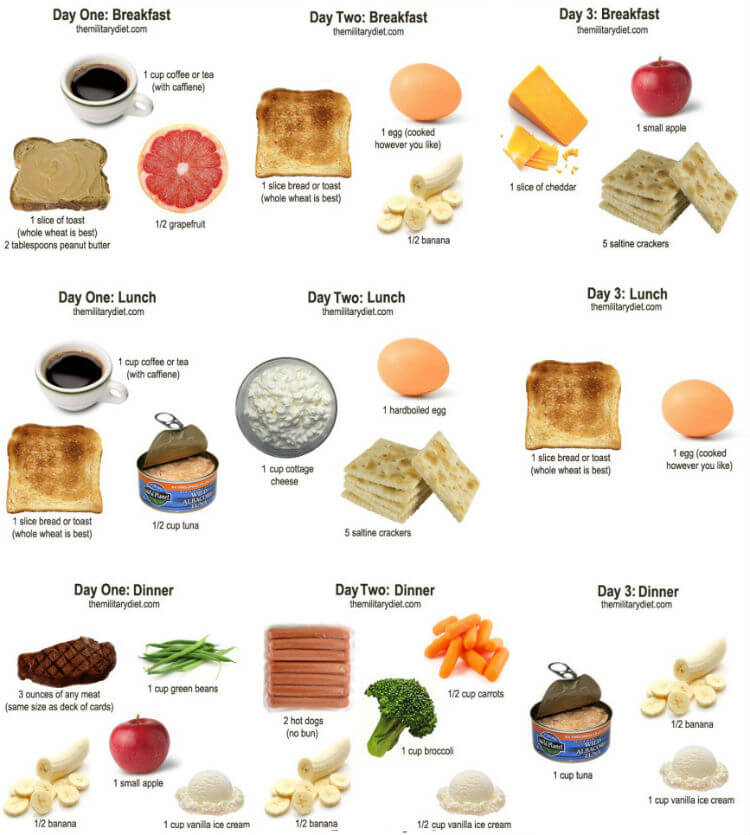 If you've always thought of making healthier choices but have been unable to, the military diet may be just the thing you need to push you to the starting line.
Here's another bonus- making good choices means no frantic calorie counting in the market.
The second positive of this diet is that it's meals are simple and can be pre-made. They mostly comprise of single or half portions.
For instance, a typical lunch menu consists of cheese, egg and carrots. None of this is difficult to put together.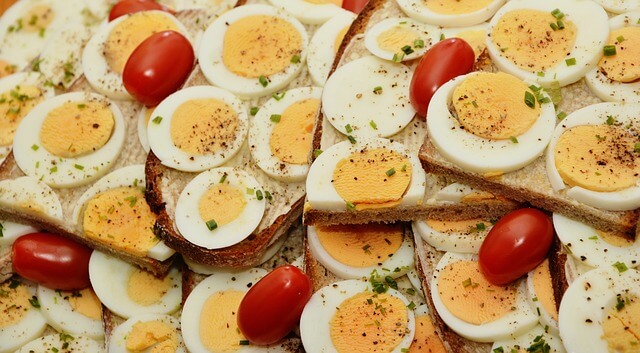 For the most part, the menu items are not expensive to procure either or hard to find. This makes the diet easy for everyone to access.
You can also get vegetarian, non-gluten, non-dairy substitutes, depending on your preference.
The diet works because it deprives the body of unhealthy, excessive calories. Quite a large number of dieters have spoken about the pounds they've lost.
Many have spoken about reduced bloating and a shrinking in belly size. Dieters have spoken about loss of centimetres, too.
Because this diet is short-term, it can be tried out by pretty much anyone, of any age.
Of course, like all diets, if you have a medical condition, it's advisable to get your doctor to sign off on the diet.
Now for the negatives
The military diet claims a weight loss at the end of the week of up to 10 pounds. Whether it's possible or not is one thing. Whether it's healthy is what's important to think about.
Rapid weight loss is not a good or desirable thing. If it is weight loss you're after, you should look at about a pound or two a week, not more.
The issue with this kind of weight loss is that it can be rapidly gained back too; once the regular lifestyle kicks in. This is also part of the feedback received about the military diet.
The diet is not a long-term option, especially because it doesn't give you the nutrients you need. It's also tough to stick to.
But it's a great fit if you're looking for something short term and to lose some weight in a hurry.
Have you tried the military diet? What was the result?