The setting on your wedding ring can impact its durability, brilliance, and "wow factor" – so choose wisely! Here's how to pick the right ring setting for your wedding or engagement ring.
A wedding ring poses more questions than who you would like to wear it and how much you can afford to pay for one. It is important to select the right wedding band not just for the symbolism or that it will be likely passed on to future generations. It needs to suit the feeling, look, and lifestyle of its wearer.
After you have considered the cut of the diamond, the precious metal that makes up its band, and the styles and designs of engravings, you are not out of the woods yet. You also need to select an appropriate gemstone setting to go along with it.
There are a number of different gemstone settings that will provide a great level of fashion and function for your wedding ring and you will likely come across all of these while browsing wedding rings for sale in the UK.
A gemstone setting can make diamonds shine brighter, make the ring and precious gemstone more durable, and enhance the "wow factor" of your wedding ring (and even make your rock appear much larger). An appropriate gemstone setting will subtly enhance and compliment the wedding ring as a whole.
With all of these reasons to put ample thought and consideration into your wedding ring gemstone setting, we thought it be prudent to help walk you through a number of different gemstone setting options in an effort to help you select the right one!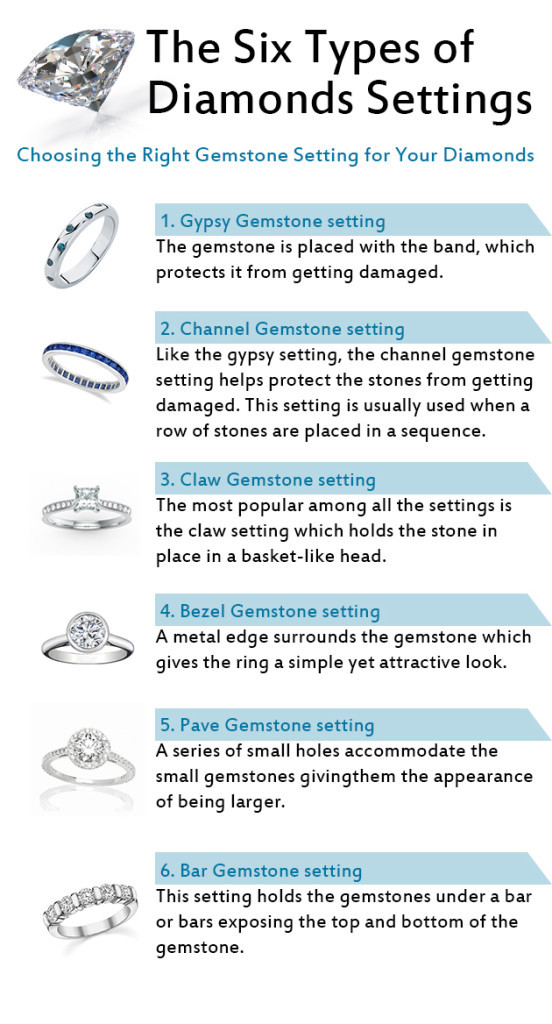 The Gypsy Gemstone Setting
Popular among wedding rings, the gypsy gemstone setting places the gemstone flush with the band which houses it. This setting makes the surface of the ring completely smooth and protects the stone from getting damaged or caught onto clothing. This setting is definitely as functional as it is fashionable.
The Channel Gemstone Setting
When a row of stones are placed in a sequence with no metal in between them, this is called the channel gemstone setting. This setting also provides additional security for the gemstones much like the gypsy setting and will also help prevent damages by housing gemstones flush with the wedding band.
The Claw Gemstone Setting
By far the most popular gemstone setting, the claw setting looks as it is described. A claw gemstone setting holds a stone firmly in place in a basket-like head which can be pointed, rounded, flat, or shaped in a v. The claw setting will allow for easy cleaning and more light to pass through, which will increase the sparkle factor of your wedding ring's diamond / gemstone.
The Bezel Gemstone Setting
A metal edge around the gemstone is best described as the bezel gemstone setting and is ideal for securing a gemstone in a simple yet attractive way.
The Pave Gemstone Setting
This setting appears as it sounds. Much like a paved street with larger stones throughout, a pave gemstone setting is simply a series of small holes which encapsulate gemstones. It can give smaller stones the appearance of being larger, although is not recommended for fragile gems.
The Bar Gemstone Setting
This contemporary gemstone setting holds the gemstones under a bar or bars and exposes the top and bottom of the gemstone. It's somewhat less popular than all of the others, but looks great when it is executed appropriately.
We hope to have helped you with your engagement plans. You can take a look at this handy resource to find more detailed advantages and disadvantages of each setting. Most importantly – congratulations on this exciting move! 😀