With modernization hitting us hard, the digital era has made it difficult to maintain a healthy work-life balance.
We often end up doing office work back at our homes. As a programmer, I live this reality day-to-day… there are too many bugs and too little time to fix them it all!
Not so surprisingly, in today's digital age, a work corner in every home is a common sight. We all have that 'home office' in our homes.
Those work corners get quickly cluttered due to all the wires, files, piles of papers and other stuff.
Today, I want to show you a few tried-and-true life hacks to declutter your home office and turn it into a tidy, clean corner.
With that in mind, these are the products that will help you become the most efficient home office organizers!
The Screen Shelf
When we're working from home or even completing an urgent task, we usually need a few things handy: a pen, a sticky note, stapler and a few pins.
These tiny creatures majorly affect your work efficiency, but you won't realize it until the time comes when you can't find them among a mess.
The screen shelf is one such helpful innovation which will ease your work. These shelves are built of sturdy plastic material and are flexible enough to fit on your desktop screens or laptop screens.
They have enough space to carry your stickies, pen stand, a stapler and a few pins. The compact screen shelves give a decent look to the entire working space.
Additionally, you don't have to worry about the handy picks when they're attached to your screens. It will keep tiny objects in place and will enhance the tidiness of the desk, too.
A tremendous impact from a minimal addition, isn't it?
Cable Tags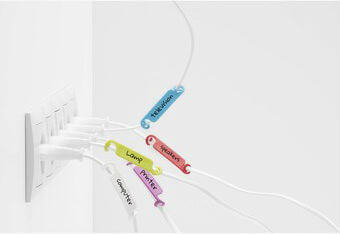 Another tool that you shouldn't miss in your home organizers' list is cable tags. Often, we find managing the wires and cables of our televisions and computers difficult.
We are all aware of how much mess they create when they're lying on the floor.
These wires behind our work desk look oh-so-messy to an outsider when they enter, and it bothers us, too. Due to no proper cleaning in those wire-y areas and all the tangles, cables collect a lot of dust.
To properly organize a set of cables, you can use this easy and functional tool – cable tags!
Cable tags are used to keep the wires de-tangled and keep the space neat. You can easily differentiate the cables when these tags are placed on them.
To keep the home office space more vibrant, you can go for the colors of cable tags. They'll help you keep your wires well-organized and spruce.
Pick one which compliments your wall decor or the wall colors, and you're good to rock with tangle-free wire backs.
Desk Organizers with Dividers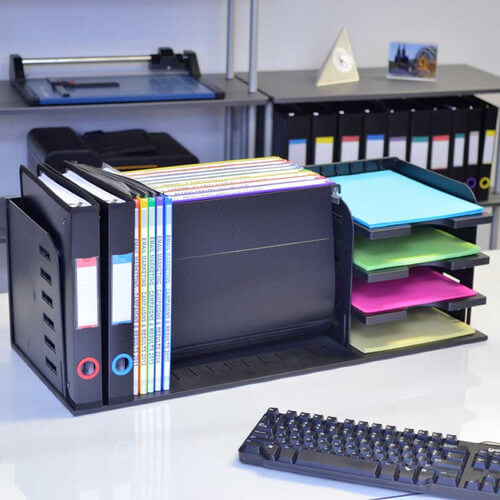 The printing papers, files, folders, and other office essentials occupy most space in our home office corner. They just stay there as piles of paper and look messy.
To organize all these papers, get a desk organizer for your home. This stylish piece adds to the desk, room and goes well with the home decor, too.
Manage your papers, files, folders and other papery stuff into it and just like that – your desk is uncluttered.
As a bonus, you won't have to find the right file or paper from a stack anymore as everything will be visible due to a handy desk organizer.
If you're looking for a desk organizer, there are many variants available in the market for. You can choose from the variations of designs, material, style, colors, compartments, etc.
The space will look more organized and polished once you ensemble all your papers into the dividers.
Wall Mount Magazine Rack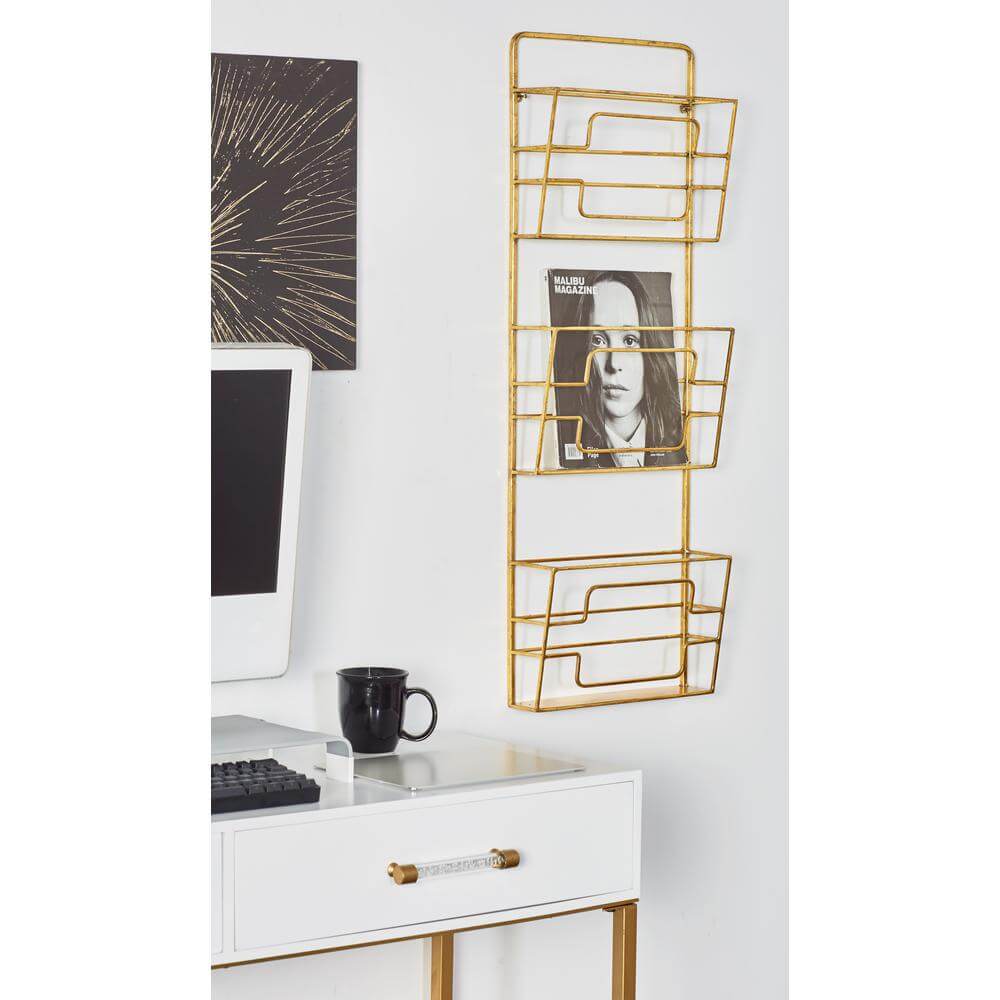 Unlike the wall mount jewelry organizer, these racks do so much more than just holding the magazines. These minimalistic magazine racks are way too useful than estimated.
You can put your regular diaries, a stack of papers, important photocopies, headphones and much more.
These sleek magazine racks give an edgy look to the place as well as taking up limited (and previously unused) space.
You can mount more than one rack if you have more stuff to place and if not, it works as wall decor as well. It does more than just arranging your work essentials; it looks trendy!

A home office corner is that one area in every home which takes a tool to keep organized and clean.
So instead, make a few changes to keep it in good shape and limit the clutter by organizing your item.
If you liked the items above, you can find the mentioned office organizers and much more on Shoppers Stop's home decor section. 🙂
To quote Dee Hock:
Clean out a corner of your mind and creativity will instantly fill it.