Giving your guests wedding favors is an excellent way to show them your gratitude for being a part of your special day. It's also a fun way to give them a memento to keep and remember your wedding. There is no standard when it comes to wedding favors, so there's no way to go wrong with a basic, sweet token. But I'm too creative for that – I love wedding favors that people will keep, enjoy and never throw away.  I'm always on the lookout for unique ideas that will stay in peoples' memories.
That's why I collected these fun group of 'forget-me-not' wedding favor ideas for your guests!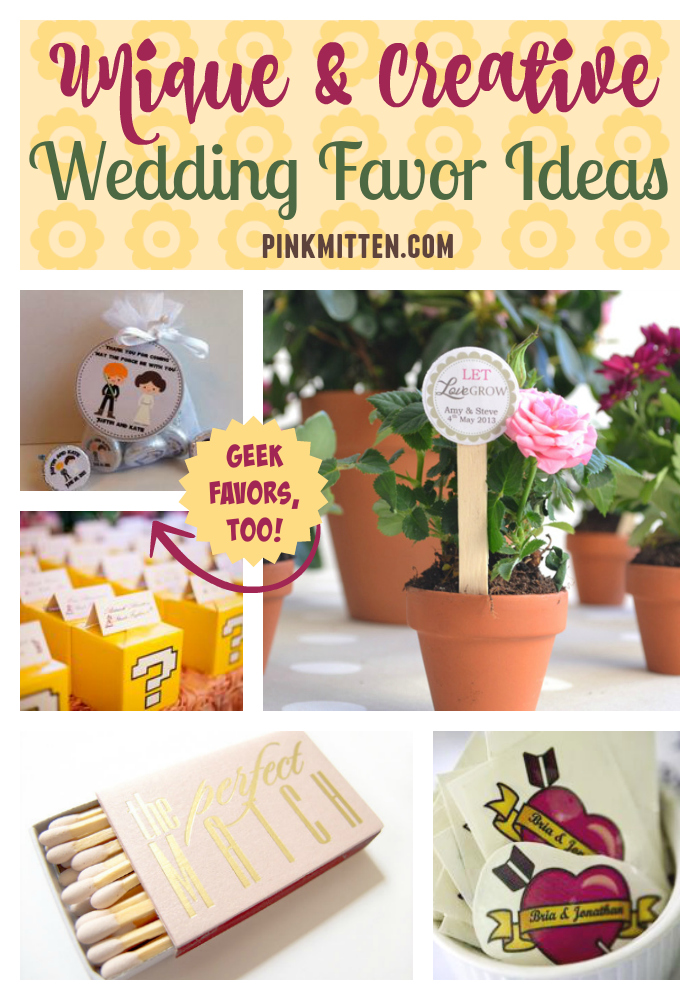 Personalized match boxes
Giving personalized match boxes as a wedding favor is a cute way to not only provide your guests something that they might be able to use, but also something that they can remember your special day by. Match the boxes to your wedding color palette and consider verbiage along the lines of "the perfect match" stamped in foil on the outside of the box.
Coasters
Personalized "eat, drink and be married" coasters are another thoughtful and useful wedding favor for your guests. Or, you can go for a more simple and elegant design like your initials and the wedding date.
Coffee
Personalize packages of coffee with paper, font and colors that match the theme of your wedding are a fun take-home favor. Something along the lines of "love is brewing" might prove catchy. Plus, they are super easy to DIY – get the bridesmaids to work and you can finish all the favors within one hour.
Local honey
Give your guests jars of local honey decorated to match the theme of your wedding with wording like "love is sweeter than honey," or something along those lines.
Plants
The last wedding I attended was at the Anoush banquet halls in Glendale, CA (which by the way, was STUNNING. Special shout-out to Anoush.com for making the perfect wedding. It was a big part of making the trip to California worthwhile.). But what I really loved was the couple's creative wedding favors – they blew me away. Each table had 5 different types of plants placed as centerpieces on the tables. They smelled amazing, but best of all, they had take-home cards. So we ended up taking 3 gorgeous potted plants home, including one that had parsley, which is a fave herb of mine. All the plants are currently in our kitchen's windowsill and growing. Talk about a wedding favor that guests will appreciate, keep and care for!
Geek-inspired Wedding Favors
This wouldn't be a Pink Mitten article without some geek-inspired wedding favors in the mix. The issue with these kind of wedding favors is that they are mostly DIY, rather than created for sale. That makes them extra unique, but it means that a couple needs to spend a lot of time creating them. I collected my very favorite ones in a new Pinterest board, which is here for you to view and enjoy!
Regardless of the wedding favor that you decide to use on your wedding day, take care to match it to your theme. With so many  that are all so unique in their style and appeal, you should wait to plan your favors until after you have selected your venue and decor, to be sure that you come up with something that flows seamlessly.
Did you have wedding favors at your wedding? Tell us what you gifted guests!